Fans of the K-Pop smash hit 'Gangnam Style' by Psy were delighted earlier. The strange, but somehow entertaining, video has already smashed a number of records but earlier today it became the first video to reach one billion views. This is a truly remarkable feat, especially when you consider the fact that it has been done by a 34 year old Korean pop star, not Bieber or One Direction. No one had heard of Psy this time last year, now he is the most watched man on the internet.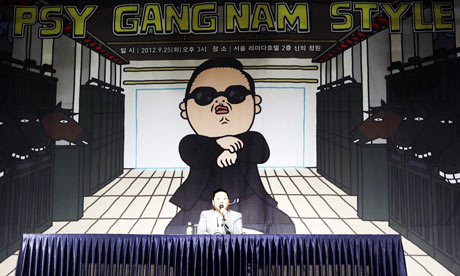 The phrase 'Gangnam Style' has also made it into the Collins Dictionary. If this wasn't enough, the video that has been viewed over one billion times, is also the most liked video on YouTube. Amazingly the video only gained momentum this summer, after it was posted on Reddit in July. Robbie Williams was one of the first celebs to spread the word, posting a link to the video on his twitter account.
Gangnam Style is over a quarter of a billion hits ahead of the next most popular video, Baby by Justin Bieber. Who knows where it will go in 2013.